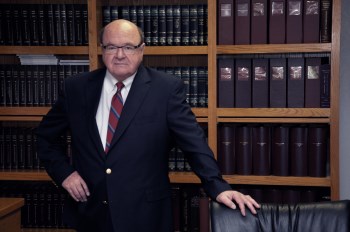 Welcome to the Pechota Law Office web site.
Terry Pechota was born in Winner, SD and was raised in nearby Colome. He has more than 40 years of experience in private law practice in South Dakota since receiving his Juris Doctorate from the University of Iowa Law School in 1972. He received a Bachelor's of Science Degree in Education from Black Hills State University in 1969.
He was admitted to the South Dakota Bar in 1972; the United States Court of Appeals, Eighth Circuit in 1973; the United States Supreme Court in 1974; the United States Court of Appeals, Ninth Circuit in 1983; the United States Claims Court in 1984; and the United States Court of Appeals, Federal Circuit in 1985.
He has been admitted to various tribal courts including Rosebud Tribal Court; Oglala Sioux Tribal Court; Yankton Sioux Tribal Court; Crow Creek Tribal Court; and Standing Rock Tribal Court.
Mr. Pechota is a member of the State Bar of South Dakota; the Colorado State Bar; Pennington County Bar Association; American Trial Lawyers Association; South Dakota Trial Lawyers Association and the American Indian Attorneys Association.
Mr. Pechota, an enrolled member of the Rosebud Sioux Tribe, is widely considered a pioneer as a Native American practicing law in the United States. He is one of the first 13 Native Americans to argue Federal Indian law cases before the United States Supreme Court. He was the first Sioux Indian to be named a U.S. District Attorney.
While his practice has involved a good deal of Indian law cases, he has a successful record in other areas of the law including: criminal defense; personal injury-plaintiff; medical malpractice; civil rights and federal tort claims. A more complete list can be found on the Practice page.
Mr. Pechota is an attorney dedicated to his clients' success. If you have a need for an attorney qualified in the areas of law described on the Practice page of this website you are encouraged to contact Pechota Law Offices.