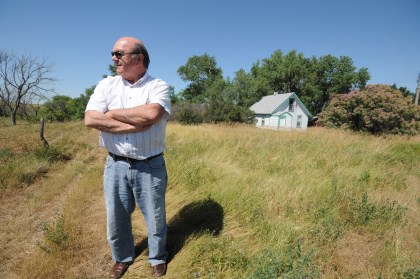 TERRY PECHOTA
Born: February 26, 1947

Terry Pechota is a former U.S. District Attorney, the first Sioux Indian to be named to that position. He became interested in the law during college when he took a constitutional law class and began reading about old case law involving people from the Rosebud Sioux Tribe. He is now in private practice, specializing in Indian affairs.
I was going to Black Hills State College and took a course in constitutional law. I ran across a case that was called Ex Parte Crow Dog. It's an old case but still a monumental case. It was just amazing to me that the people involved in that case were Rosebud Sioux tribal members. Here was a case that was decided by the Supreme Court that basically said that the federal government didn't have jurisdiction or powers over Indian tribes unless Congress had said so in some affirmative, unequivocal way. That was very eye-opening for me.
Then I went through a program out of the University of New Mexico called the American Indian Law Program. It was a summer law program for Indian students. At that time, there probably weren't ten Indian lawyers in the whole United States, and tribes were doing significant, monumental legislation. Students would go down to the University of New Mexico and they would give them a smattering of law to make sure they liked the law profession and gave them a little taste of what law school is going to be like. Then, if people wanted to go on, they did their best to get funding for those Indian law students. So, I went down there and then went on to three years of law school.
As soon as I got out of law school, I went to work for Indian Legal Service in 1972. It was all Indian-related work and it just seemed that everything I did reinforced my interest, my awareness and my desire to continue that type of case.
As you progress from 1972 to 1992…back in 1972, we were dealing with whether or not Indians got to vote in state elections, whether or not Indians were entitled to the services of the Yankton Indian Hospital or whether Indians were entitled to receive welfare services. Those kinds of issues just slap you in the face.
As there have become more Indian lawyers, we've gone from that kind of case to cases that are very, very technical and complex. They don't just slap you in the face the way they used to. You have to sit down and think through these in the light of the precedent that's been established by the United States Supreme Court.
When I started practicing in tribal court, you had one judge who was a lay person. You didn't have any transcripts of the proceedings. Jury trials were really kind of unheard of, as a practical matter. Now you look at these court systems – they have everything non-Indian courts have. They have court reporters, good record-keepiing systems. They have Indian people, professionally trained judges that have been to law school. They have well-reasoned decisions.
I think there has been a lot of mistrust and questions about whether or not the tribal court system is able to handle litigation. When you look at how far tribes have come in the last 20, 25 years! The tribes have just made giant strides in the area of tribal courts. I think we're at the point where tribes and tribal courts can handle most any kind of litigation that non-Indian courts handle.
If your heart is into a case and you believe in a case, I think you're going to be a much better advocate than if you're taking the case because you have to take the case or somebody hired you to take the case. I've seen that kind of situation a lot over the past 15 or 20 years by Indian Tribes across the United States. When they have their own people litigating these cases as opposed to attorneys hired outside of the tribe, it's an intangible, the value of which cannot be overly stressed.

© 2016 Pechota Law Office